Back And Fill Lyrics by Parry Sarpanch is new released Punjabi song in his voice, Gill Saab has made its tune. Latest Back And Fill song lyrics are written by Aman Jaluria. Its music video is released by White Hill Music.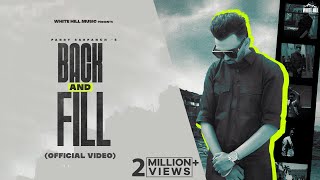 Back And Fill Song Detail:
Song: Back And Fill
Singers: Parry Sarpanch
Musicians: Gill Saab
Lyricists: Aman Jaluria
Gill Saab Music!
Parry Sarpanch!
Ho satt saali saza hoyi poori jatt di
Vairiyan nu ghare bethe aaun tyoniyan
PB 31 oh Mohali tak yaar sadhe aa
Mafia madeer ne gard thauni aan
Ho gaddiyan di line tutte na
Jandi lohe di aa daar look pattdi
Ni rally jinna kath ho gaya
Ajj jail vichon
Jail vichon wapsi aa jatt di
Ni rally jinna kath ho gaya
Ajj jail vichon wapsi aa jatt di
Ho jatt di support aali bheed dekh ke
Loki kehde mela dasso kehde babe da
Mod mod utte nakabandi balliye
Karu jatt di vadayi kaid khana nabhe da
Ho chulleya te chaade bakkre
Ajj pattne aa botlan de datt ni
Ni rally jinna kath ho gaya
Ajj jail vichon
Jail vichon wapsi aa jatt di
Ni rally jinna kath ho gaya
Ajj jail vichon wapsi aa jatt di
Ho dhons chalde ni kise lalli chhali di
Saddiyan ragan ch lahu hai bagawati
Khandiyan kharaka dekh patt bhid de
Tikke la la dolle kitte na phalawti
Tikka ke bando bas kari da
Jandi hikk te kanal goli katdi
Ni rally jinna kath ho gaya
Ajj jail vichon
Jail vichon wapsi aa jatt di
Ni rally jinna kath ho gaya
Ajj jail vichon wapsi aa jatt di
Vailly shonk nu ni bane ehe rab janda
Saanu gudhti ch aaiyan badmashiyan
3-4 maheene taan ni thalle lagni
Jadon chadeya de kolon lattan kaasiyan
Jalurian de munde di kude
Yaari Parry Sarpanch naal att ni
Ni rally jinna kath ho gaya
Ajj jail vichon
Jail vichon wapsi aa jatt di
Ni rally jinna kath ho gaya
Ajj jail vichon wapsi aa jatt di