Ittar Lyrics by Jasmine Sandlas is brand new Punjabi song sung by Jasmine Sandlas and this latest song is featuring Prabh Uppal. Ittar song lyrics are penned down by Jaani while its music is given by B Praak and video has been directed By Arvindr Khaira.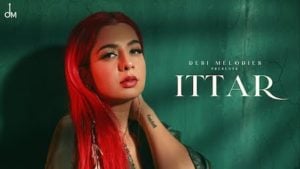 Ittar Song Details:
Starring:
Jasmine Sandlas, Prabh Uppal
Ittar Lyrics
Ae Yo!
Yeah.. Gulabi Queen!
Aah!
Ho Taareyan Di Loye Oye Hoye Hoye
Assi Dovein Katthe Hoiye Ve
Ho Taareyan Di Loye Oye Hoye Hoye
Assi Dovein Katthe Hoiye Ve
Tu Te Main Main Te Tu
Baddlan De Utte Soiye Ve
Tu Te Main Main Te Tu
Baddlan De Utte Soiye Ve
Taare Hon Hathan Vich
Chann Teri Ankhan Vich
Hor Na Main Kujh Mangdi Di
Let Me Tell You Kiddan Baby
Hold Me Aiddan Hove
Hawa Vi Na Vichon Langhdi
Tereyan Baalan Naal Khelangi Main
Te Tu Khele Waaliyan Naal Ya
Teri Meri Bandi Nai Sooraj Naal Haaye
Saddi Bane Raatan Kaaliyan Naal
Ho Tu Mera Ittar Ve
Main Ang Ang Lawangi
Te Ang Ang Laake Main
Pindan Mehakawangi
Ho Tu Mera Ittar Ve
Main Ang Ang Lawangi
Te Ang Ang Laake Main
Pindan Mehakawangi
Ho Je Tu Mere Kol Hovein
Mainu Pher Fung Lagge
Ho Thand Ch Garmi Te
Garmi Ch Thand Lagge
Ho Junglee Ne Nazaran
Te Junglee Adavan
Sohneyan Tu Mere Kol Aaja
Main Tere Kol Aavan
Sohneyan Ve Khushbu Taan
Lai Laiye Ik Dooje Di
Sohneyan Ve Ankhan Vich Ankha
Paale Baahvan Vich Baahvan
Ho Enni Taan Paagal
Kade Vi Nahi Si Main
Jaadu Tu Kitta Mere Te
Shayar Ne Lakhan
Main Tere Te Rakhan
Ankhan Jaaniya Ve Tere Te
Ho Tu Mera Ittar Ve
Main Ang Ang Lawangi
Te Ang Ang Laake Main
Pindan Mehakawangi
Ho Tu Mera Ittar Ve
Main Ang Ang Lawangi
Te Ang Ang Laake Main
Pindan Mehakawangi
Ho Taareyan Di Loye Oye Hoye Hoye
Assi Dovein Katthe Hoiye Ve
Tu Te Main Main Te Tu
Baddlan De Utte Soiye Ve
Ho Tu Mera Ittar Ve
Main Ang Ang Lawangi
Te Ang Ang Laake Main
Ho Tu Mera Ittar Ve
Main Ang Ang Lawangi
Te Ang Ang Laake Main
If Ittar Had A Sound
This Would Be It
Oye Hoye Hoye
Hahaha